Return to the Maleny Garden Club History Homepage.

Floral Carpet – Autumn Fair 1967
Convenor/Designer Mrs O. Thomas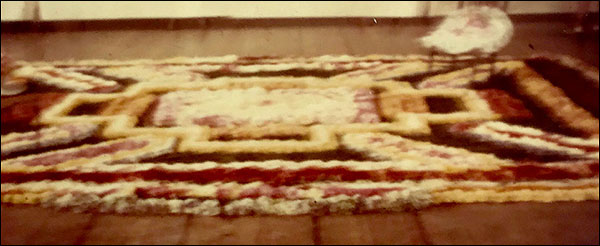 January 1967
Dahlia Show and Floral Carpet: The School of Arts Committee was asked to supply 8 sacks of pine clippings for the Floral Carpet and have same at Hall on Thursday night 2/3/67. Mrs O. Thomas was in charge of the carpet.
Two floral shows were held, the Dahlia Show in aid of the Maleny School of Arts and the Spring Fair for the Maleny Ambulance Centre. A feature of the Dahlia Show was the floral carpet designed again this year by Mrs Thomas Snr.
September 1967
The fifteenth Annual Meeting and Election of Officers was held in the garden of Mr & Mrs Bergann at Witta on 26 September.
Officers elected for 1967-1968 were:
Patron: Mr J. H. Skerman
Junior Patron: Mr A. W. Webster
President: Mrs B. Humphries
Vice Presidents: Mrs E. Hawkins & Mrs R. Penney
Secretary: Mrs Dunstan
Treasurer: Mrs Rough
Librarian: Mrs F. Porter