Return to the Maleny Garden Club History Homepage.

Floral Carpet Theme – Geometric Design – Autumn Fair 1960
Designer Mrs R. C. Burnett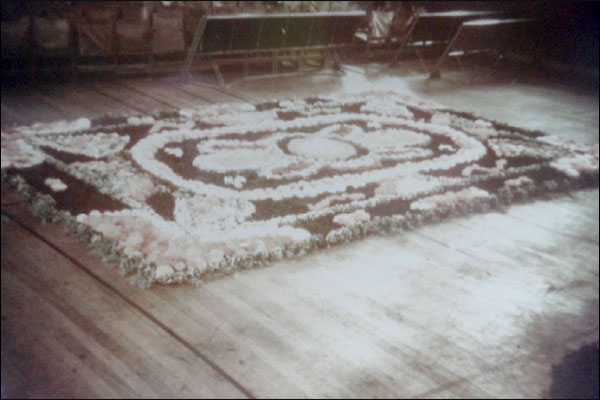 March 1960
The floral carpet took the form and pattern of a carpet in geometric floral design. The colouring and formation mainly of dahlias with a background of foliage of pine tree was artistically arranged by members of the Horticultural Society organised by Mrs K. Riordan. The centrepiece gave the effect of a dome in yellow dahlias surrounded by white dahlias and blue hydrangeas from which petals of varying lengths consisting of red and white dahlias outlined with blue hydrangeas radiated. At each corner of the carpet were massed cyclamen and autumn tinted dahlias in clusters with touches of frangipani and tiger lilies were arranged. The carpet was bordered with dahlias, hydrangea and ghost plant forming a fringe. The whole effect was very beautiful and a work of art. Those responsible for its creation are to be highly commended.
The Maleny and District Horticultural Society staged its Annual Dahlia show, floral carpet and bazaar in the School of Arts on Friday in aid of the School of Arts funds. Rain fell almost continuously during the day, and the excessive heat experienced recently was one of the main reasons for the lack of entries in the various sections. Despite this a profit of £64/-/- was shown.
September 1960
The eighth Annual Meeting and Election of Officers was held in the John Parry Memorial Hall.
Officers elected for 1960-1961 were:
Patron: Mr J. H. Skerman
President: Mrs W. Bergann
Vice Presidents: Mrs Rough and Mrs Dunstan
Secretary: Mrs A. W. Plucknett
Treasurer: Mrs Humphries
Hon. Auditor: Mr W. Petersen
Subscriptions: Mrs Nothling moved that subscriptions continue at 5/-, seconded by Mrs Warne. Carried.
Gardens in the Sun Competition
The results of the 1960 Gardens in the Sun competition were printed 23 September 1960.
 Mr and Mrs K. Riordan (Maleny) 75 points
Mr and Mrs W. F. Raddadtz (Beerwah) 66 point
 Mr and Mrs A. W. Webster, (Wootha) 60 points
Source Nambour Chronicle
October 1960
Mrs Bergann opened the meeting by welcoming visitors and members and expressed congratulations to Mr & Mrs Riordan on their winning the Garden in the Sun Competition.