Return to the Maleny Garden Club History Homepage.

The Floral Carpet – Autumn Fair 1957
The design was prepared for 1956 when bad weather forced a cancellation.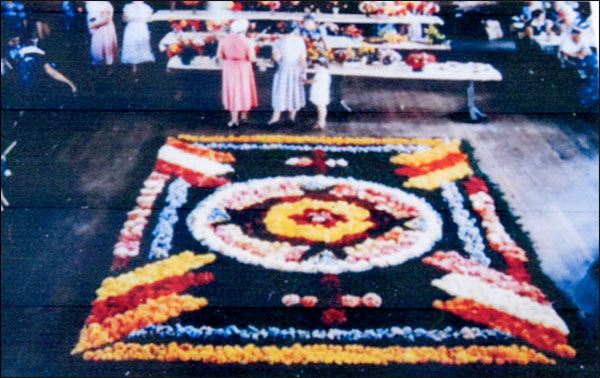 February 1957
Commenting on his observations at the annual Dahlia Show of the Maleny Horticultural Society, the judge Mr Robinson (Brisbane) said the quality of flowers was well up to Brisbane standard and the floral carpet equal to the best seen anywhere. Although the number of entries were slightly down numerically, the beauty and type of blooms were magnificent. Proceeds went to aid the building of the new School of Arts.
The nett proceeds from the Dahlia Show for the Building Fund of the School of Arts totalled £84/2/11
September 1957
The fifth Annual Meeting and Election of Officers was held in the Church of England Hall.
Officers elected for 1957-1958 were:
Patron: Mr J H Skerman
President: Mr A Lockwood
Vice President: Mrs W Bergann
Secretary: Mrs A W Plucknett
Treasurer: Mrs Humphries
Auditor: Mr W Petersen
Subscription: Moved Mr Burnett seconded Mr Prentis that the subscription remain at 5/- per year and 2/6 for second half year to new members.
Trophies: The President requested Mrs Nothling to present the Societies Trophy to Mrs Lockwood who gained first place with 104 points in the A Grade competition and also to present the Presidents Trophy to Mrs Dunstan who came first in the B grade Section, gaining 43 points with Mrs Buxton and Mrs Archibold both scoring 42 points.
Driest Year on Record
Records of the Bureau of Meteorology (BOM) indicate that 915.2mm of rain fell for the whole year making this the driest on record for Maleny.