Return to the Maleny Garden Club History Homepage.

Floral Carpet theme – Flowers through our Heritage – Autumn Flower Show 1995
Based on the Waltzing Matilda Centenary
 Designer Pat Powell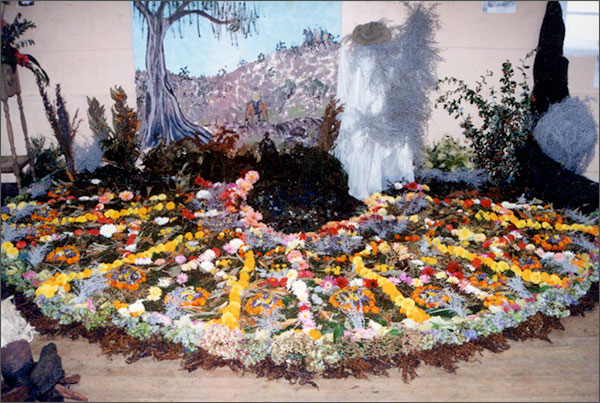 Backdrop to the Floral Carpet
January 1995
Carolyn Clark reported on the work that she and her Management Committee have been doing to organise the Autumn Flower Show and listed these sections to Fair:
Cottage Garden – Old Fashion Parlour – Seven Little Australians – Old Style Kitchen – Old Fashion Wedding Bouquets
History of Maleny – Entrance to Hall depicting Waltzing Matilda – Carpet theme, also Waltzing Matilda
Old Farming Implements – Tussie Mussie
Commission 20% on consignment stall – Work stall – Plant stall and cutting stall – Plant clinic – Demonstrations
Pot Pourri and rug making.
The raffle is a patchwork quilt, of a Log Cabin design made by Robyn Conroy and her band of Garden Club helpers.
Carolyn put it to members that it will be a great event and it may be a good idea to have an opening night on 15 March with wine and cheese night to celebrate the opening. This motion was accepted with all members in favour.
April 1995
Promotion of Donations to Local Organisations: President Pat Powell opened this meeting in Maple Street on the footpath in front of the Community Centre. The reason for this being the presentation of three cheques which were received by three local organisations.
Mrs Joy Marshall received cheque for $4,550.00.on behalf of the Maleny Community Hall.
Mr Scott Battersby received cheque for $1,300.00 on behalf of the Rural Fire Brigade.
Mrs Lol Klein received cheque for $650.00 on behalf of the Maleny Neighbour Centre,
All this money was raised during our Autumn Flower Show in March 1995. Photos were taken by local Range News for publication in our local paper.
July 1995
The forty third Annual Meeting and Election of Officers was held in the Maleny Community Scout Hall on 29 August.
Officers elected for 1995-1996 were:
President: Shirley Hollonds
Secretary: Evan Jones
Vice Presidents: Moyra Jones and Leonie Loch
Assistant Secretary: Val Bengston
Coach Convenor: Carolyn Clark
Catering Convenor: Charmaine Boucher
September 1995
Our constitution allows another type of member to join our fold, that of Honorary Member. We recognise someone who willingly shares with us his knowledge both horticulturally and media wise. May we bestow on Colin Campbell, Honorary Membership. Our Congratulations.
October 1995
Distribution of proceeds of the Spring Fair: It was realised that our membership fees no longer covered the cost of running the Club. It was recommended that we keep $400.00 in reserve and distribute $2,300.00 as follows
Community Centre $1,610.00
Palliative Care $460.00
RSL $230.00
Questionnaire: A questionnaire is to be prepared by the committee and sent to the members to see what they want from our Club.