Life Member – Thalia Skerman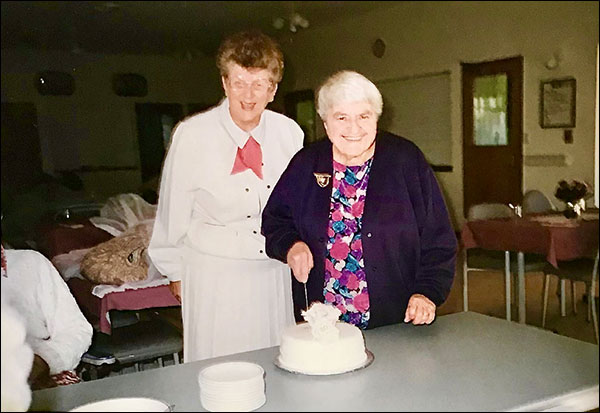 T
Thalia Skerman (R) with Norma McLeod (L)
(Cutting Thalia's 80th birthday cake, made by Norma.)
Librarian 1975, President (1977-'78-'79-1980) Vice President (1980-'81-'82 and '83) Secretary (1976), in charge of Publicity (1985-'86-'87-'88-'89-'90-'91 and '92) also flower judge.
Daughter of J H Skerman the original Patron. Maintained the donation of her father's Life Patrons Trophy after his passing until 1992 then her son Rodney kept the Trophy going as the Thalia Skerman Trophy after she had passed away in 1999. Members agreed that a camellia be planted at Erowal (Ben Bryce Park) in memory of Thalia. Di Hall paid tribute to Thalia and how we will all miss her greatly.
The Editor, Range News, Maleny
In April we lost a dedicated lifetime member of our Garden Club. Thalia Skerman has been a participator in the Maleny Town's active and growing community. She told many tales of the "early days" and fledging organisations, many of which she was a founding member. Her small garden at the retirement village, was a joy, and will continue to delight all who reside there. Until the end Thalia served where she was able, and gave the Range News her descriptive pieces for publication. There have been many "Thalias" in our Club, and we miss them all, but little snips of them live on in the gardens all over Maleny, as voices say "Oh, that came from Thalia's garden"
Val Bengston, Secretary Maleny Garden Club Inc.