Life Member – Di Hall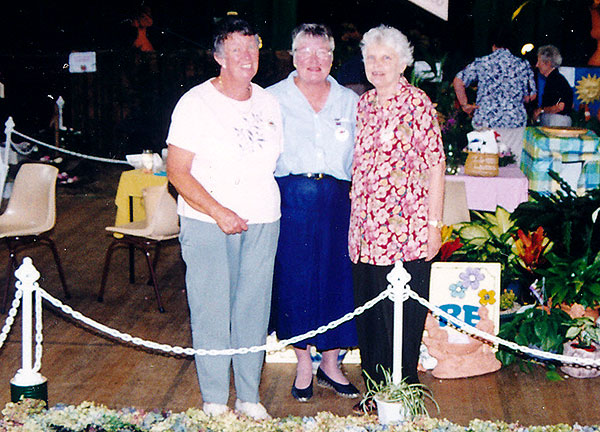 Di Hall is first mentioned in the Club minutes in October 1998. She was President and Floral Carpet convenor for many years.
Di recalls: " came to Maleny from the Kenmore Garden Club. I remember attending my first Garden Club meeting, which was advertised in the Range News, where I was made most welcome by the 10 or so members who met at Policeman's Spur in the garden of Sylvia McNoll. Two of the members that I especially remember are Edna Hawkins (who terrified me until I got to know her) and Muriel Hitchins who became President later. It was from that meeting where the members gave me a carload of cuttings which I used to get the garden started. Shortly after they were ripped to shreds by a hailstorm which meant I had to start from scratch again, but those wonderful ladies provided me with enough cuttings to get going again. I gained so much knowledge from attending the meetings.
Who can forget the Floral Carpets, especially the Flying carpet. There were carpets made to celebrate the Olympic Games, Aboriginal art, a Floral Clock, the Queens Visit, the Colours of the Rainbow, Countries of the world (to name but a few), so many wonderful designs.
Awards
Di and Bill Hall were the recipients of many awards for their garden "The Old School House" Garden at Booroobin.
2001: The Garden Clubs of Australia inaugural National Garden Competition. The garden was placed first in the Northern NSW/South east Qld zone in its category.
2002: Maroochy and Caloundra's" Gardens in the Sun" Competition Grand Champion
2003: Maroochy and Caloundra's" Gardens in the Sun" Competition Grand Champion 2005
2009: Open Garden Australia Grand Champion Garden of the Sunshine Coast as part of Australia's Open Garden Scheme. Also open in 2007 as part of the same scheme
From the minutes of March 2002;
The guest speaker from Maleny Ambulance failed to turn up. In his absence Di Hall spoke about the Open Garden Scheme, its history, the procedure of being chosen to open your garden and the hard work and joys involved in preparing and presenting your garden.
The Range News dated 17 October 2003
MALENY'S GOOD NEIGHBOURS AND GREAT GARDENERS WIN AWARDS.
Caloundra City again lay claim to the Coasts greenest thumb after Bill and Di Hall of Maleny were named Maroochy and Caloundra's Gardens in the Sun Competition Grand Champion today. Caloundra City Mayor, Don Aldous, said it was not only an honour for a Caloundra City resident to take out the title of best residential garden for the second year running, but also a credit to the gardening prowess of Mr and Mrs Hall who received the same title last year.