Lynda Reynolds (pictured) now has two trophies from the hotly-contested plant competitions of 2019.

Competitions organiser Carole Webb announced the winners at our annual Christmas lunch which this year was held at Flaxton Gardens.
Lynda won the trophies for Most Points (scored throughout the year) and also for the Bunch Of Flowers category.
MOST POINTS
• 1st Lynda Reynolds 278
• 2nd Harvey Weston 224
BUNCH OF FLOWERS
• 1st Lynda Reynolds 180
• 2nd Harvey Weston 171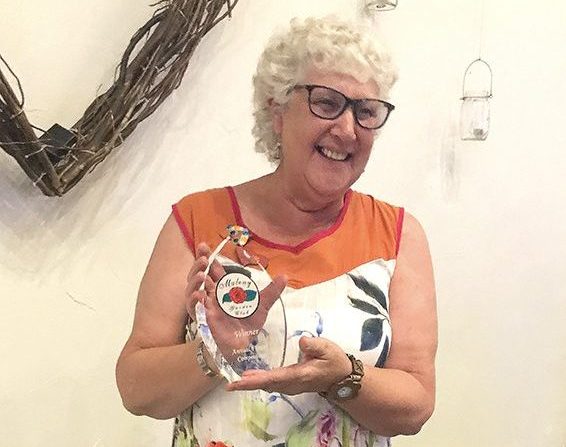 The trophy for Fruit & Vegetables was presented to Ian Reimers (pictured below with Carole Webb).
FRUIT & VEGETABLES
• 1st Ian Reimers 123
• 2nd Graham Shackell 101
In other results, Toni Walters was the 2019 winner for the Flower of the Month, Bette Weston for Roses and Margaret Seidler for the All Else category, with Graham Shackell winning the Australian Natives competition.
FLOWER OF THE MONTH
• 1st Toni Walters 63
• 2nd Margaret Seidler 50
• 3rd Bette Weston 49
• 4th Marie Hegerty 39

ROSES
• 1st Bette Weston 113
• 2nd Lynda Reynolds 101
• 3rd Margaret Seidler 74
• 4th Harvey Weston 72
ALL ELSE
• 1st Margaret Seidler 88
• 2nd Harvey Weston 66
• 3rd Toni Walters 52
• 4th Nancy Baker 44
AUSTRALIAN NATIVES
• 1st Graham Shackell 175
• 2nd Peter Brown 116
• 3rd Nancy Baker 50
• 4th Lynda Reynolds 44
FRUIT & VEGETABLES
• 1st Ian Reimers 123
• 2nd Graham Shackell 101
• 3rd Peter Brown 79
• 4th Tony Reid 73
BUNCH OF FLOWERS
• 1st Lynda Reynolds 180
• 2nd Harvey Weston 171
• 3rd Margaret Seidler 67
• 4th Norma McLeod 56