Life Member – Olga Webster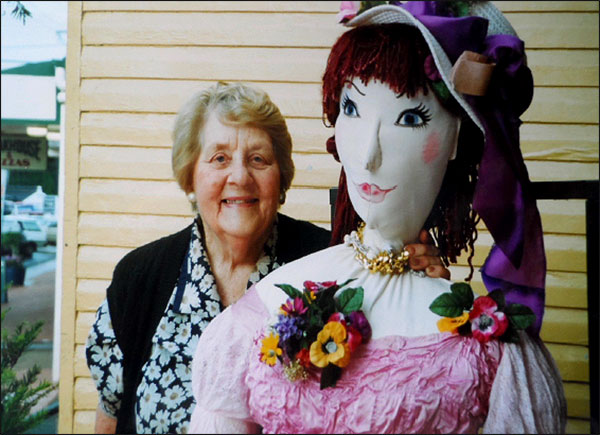 Mannequin wearing Olga's bridesmaid's dress from her sister Ida's wedding at the Spring Fair, 2002,
Olga Webster became a member soon after the Foundation of the Maleny & District Horticultural Society, husband Alan was Foundation Treasurer and Club Patron for 40 years. Olga's mother Ida Nothling was also a Foundation Member.
Olga remembers…My memories commence from the 1950s when we experienced a bad hail storm. Alan Lockwood who grew a lot of dahlias at Conondale, looked like he was going to lose them so he gathered them up for Peg Burnett who was a keen floral artist, to see if she could make use of them. Her husband Rixson laid two sheets of corrugated iron on the carpet in the lounge and placed the blooms on them. It looked like a beautiful carpet, so they decided to make a floral carpet at a fete that was to be held in the next day or two.
We have many beautiful Camellias on our property which we were able to share with members when meetings were held in our garden. Meetings were held monthly in different members' gardens, and a guest speaker was usually present either imparting their knowledge or demonstrating Floral Art. Shared picnic lunches and fellowship after the meetings are still fresh in my mind.
The Floral carpets were so much fun, joy and satisfaction, they brought us all together so much that we spent the evenings after they were displayed in dancing the night away. I think the world would be a very boring and dull place without music and flowers.
Olga carried out the duties of flower judging and if you might think that is easy look at the professional manner in which the schedules were made up, if you didn't know your stuff the members would not put up with it!
Alan and Olga won a major prize in the 1961 Gardens in the Sun competition run by the Nambour Chronicle from gardens entered in the Landsborough Shire.

Left: Olga receiving the Anne Williams Clark Achievement Medallion for 60 Years Membership.
Right: The medallion awarded by Garden Clubs of Australia.
The Camellia is my Flower – Author Unknown
The Camellia is my flower, I shall not want,
It makes me happy to enjoy the green foliage,
It leads me to be happy when it blooms,
It restores my contentment
Yea, though I must wander and prune,
Fertilise and mulch,
I will fear no fatigue, for I know it will
Produce beauty
Its new growth and buds comfort me,
In the late Autumn and Winter
When new flowers bloom
My cup runneth over.
Surely wonder and goodness
Will follow me
If I share the blooms with others
And I will dwell in a state of happiness forever.
Poem contributed by Olga Webster in the Snippets Spring edition 2011.