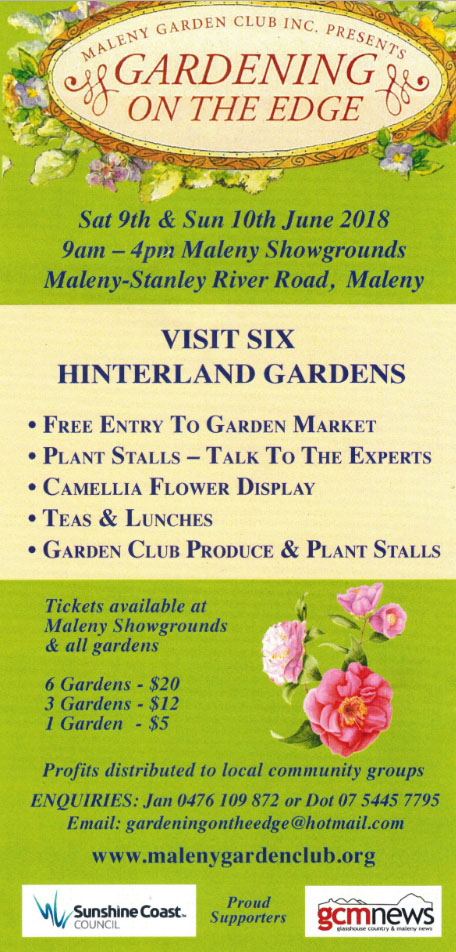 Gardening on The Edge 2017
Click HERE for description of 2017's gardens
From the President
We have once again enjoyed the excitement of our Gardening on The Edge event here in Maleny and surrounds for our 13th year.
Our Club takes great satisfaction and pride knowing that this event raises money which is donated to local charities, some of which over the years have been:
The Maleny Hospital;
Ambulance Services;
SES;
Fire Brigades from both Maleny and Conondale;
The Neighbourhood Centre;
School Chaplaincies; and others
all of whom we know appreciate the monies which in turn help our community.
One might ask why a Garden Club would take on such an event?
This is a small community and a very close knit one;
We have a wonderful and well-serving hospital on our doorstep whose work with the community is second to none;
The town has been built on community spirit and donation.
Our local CWA and Hospital Auxiliary cater food that their teams put a great deal of effort into and for this we also thank them for their support.
So why not?
We are gardeners;
To share our gardens with visitors gives all of us great pleasure.
Every member of our Club, whether they have recently joined or are long-standing members, and I might say all put their best food forward for this event. Whether it be:
making jams;
baking;
potting up plants for our own stalls; or
volunteering on the gates at each garden.
We all lend a hand and in doing so enjoy the social aspect of the event.
The stallholders who come each year are very knowledgeable and the feedback from them is also heartening.
I know I speak for our Club, especially the hardworking GoE Committee, that if you have enjoyed the experience of the event and friendly atmosphere of our small town, then what we set out to achieve has been worthwhile.
So, in closing, may I say long live the event and if you have enjoyed it please come again and tell your friends and family.
Marnie Trass